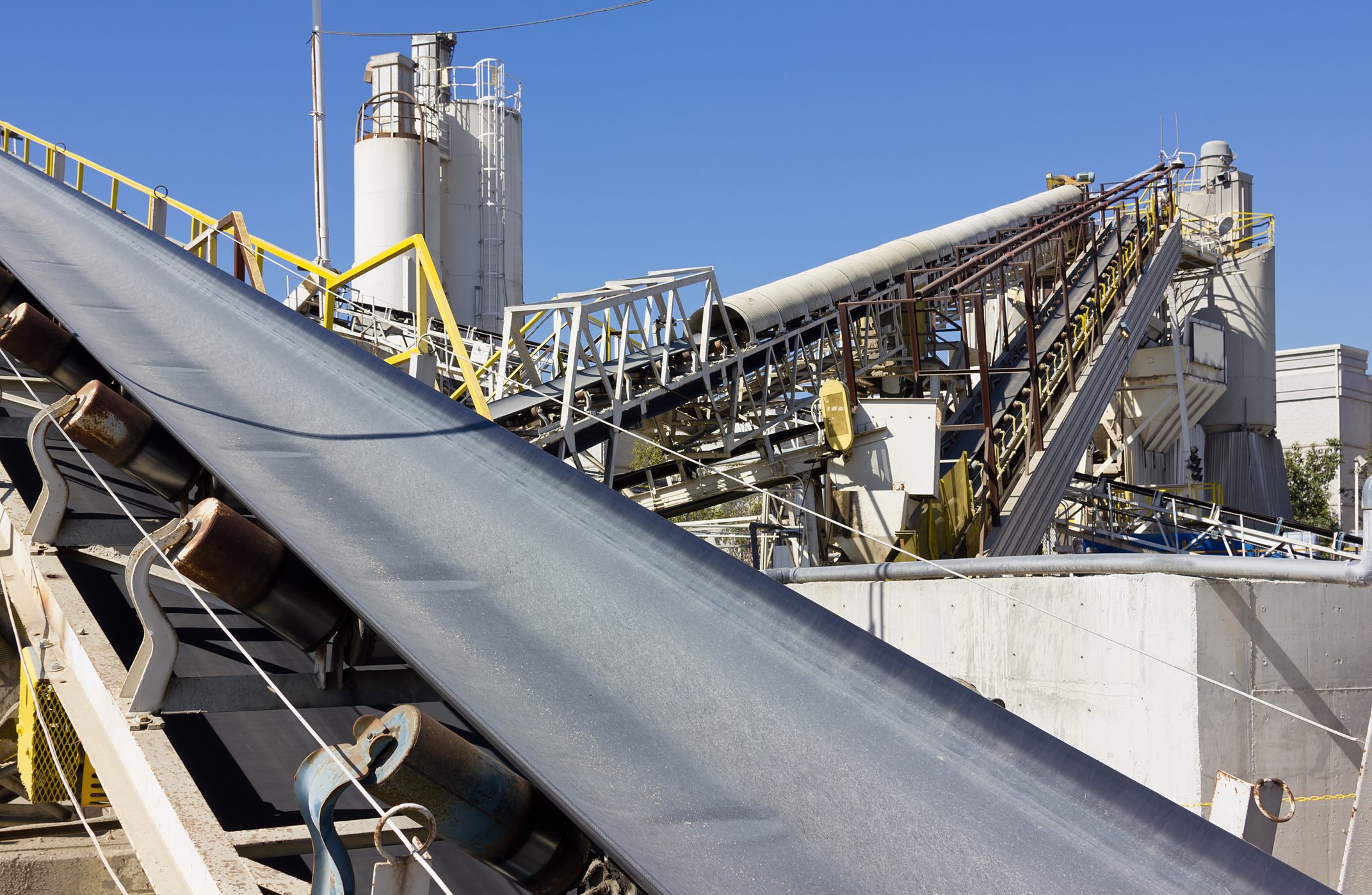 Manufacturers of all types of products from food processing to building materials to power plants to chemicals use industrial conveyor belts to transfer materials. Because of this, we have composed this newsletter is about Safety regarding Industrial Conveyers.
The most common cause of injury when working around conveyors in general industry involve pinch/nip points.  This includes tools, clothing, or body parts being pulled into the rotating equipment.  Adequate guarding is the primary method to avoid injuries caused by pinch/nip points.  
OSHA guidelines state that danger points should be guarded.  The term "danger point" is not very definitive, as the designer's typically guard around the perceived "most dangerous points", around head and tail pulleys and take up rolls.  Many idler and guide pulleys are left unguarded in general industry applications, as they are not considered as dangerous during normal operation.  However, most injuries do not occur during normal operation.  According to the Conveyor Equipment Manufacturers Association (CEMA), over half of all injuries, and nearly all fatalities, occur when performing cleaning or maintenance activities occur around conveying equipment.
Adequate guarding is the first line of defense in protecting personnel around conveyors.  Guarding is oftentimes designed and fabricated economically to be large enough to cover combined areas of an industrial conveyor making the guards cumbersome to work with.  Data from the Mine Safety and Health Administration (MSHA) indicates that nearly half of all injuries around conveyor guards are due to handling or dropping oversized or heavy guards.  Good guard design should include provisions for easy removal when the machines are shut down and locked out to accommodate maintenance and cleaning.  Guards that are easier to remove and reinstall will also help to ensure that they are properly returned in place after the maintenance is completed. Guards that are not properly re-installed is another common safety concern.
Routine cleaning is one of the most dangerous activities performed around conveyors.  Bulk material will spill around conveying equipment.  Data from CEMA studies shows that nearly 0.5% of conveyed material typically spills or is lost as dust at transfer points.  While there have been advancements in dust collection systems, belt scrapers, and seals, there are no spill proof solutions to belt conveyors.  Even if all scrapers and side seals are operating at their best, there is still a loss rate of 0.1% of material.  In other words, if a facility conveys 1,000 tons of material; there is one ton of material that must be cleaned up around their conveyors.  Proper inspection and maintenance of scrapers, seals, and dust collection systems is an essential part of reducing spillage, which in turn will reduce the safety risk to the facility's employees.
The most important that can prevent industrial conveyor injuries when performing cleaning or maintenance is to properly lock out the equipment.  Many facilities allow cleaning underneath or near conveyors while they are in operation.  Shutting down the process and locking it out is the safest state to allow people to work around.  This requires a true commitment to safety taking priority over production in many cases, but it is the safest state to perform working around conveyors.
Pearl Engineering is proud of our culture of: 'Creating Innovative Solutions to Complex Problems'.
Please let us know if we can help you with your plant's conveyor safety improvements.