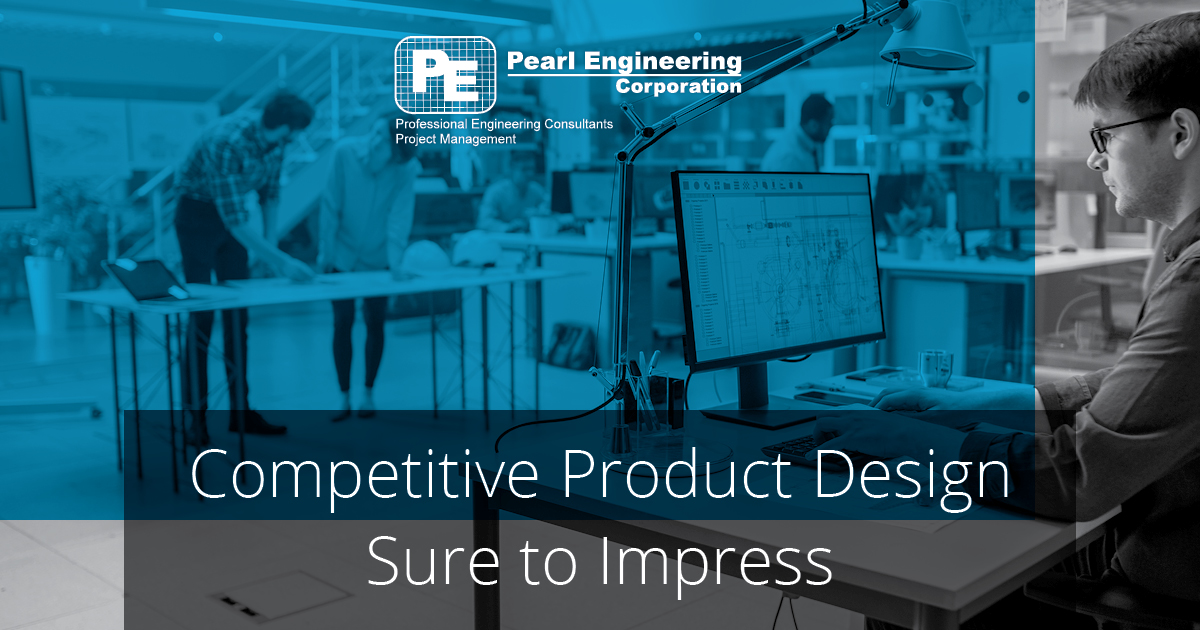 Whether you are looking for a product to improve the efficiency of one of your processes or you are looking to improve the effectiveness of an existing product, every product starts as an idea. Whether it is a rough idea that exists in concept only or one nearly fully formed, the only way to bring that idea to life is by successfully executing a comprehensive product design.
Mechanical Project Engineer Jeff Ferkey and the rest of the Pearl Engineering team have extensive experience working with our clients throughout the product design process and helping them bring their industrial products like Modular Skids and Storage solutions, Custom Carts, Panel Stands, and Process Equipment from concept to completion. 
Their experience, appreciation, and understanding of the value of a thorough and comprehensive product design paired with utilizing the best tools throughout has enabled them to provide unparalleled product design sure to impress. 
Why comprehensive product design matters
Undergoing a thorough product design process for any new or existing product is important for many more reasons than just ensuring the product's components and dimensions are correctly cataloged. When the product design process is put in the hands of an experienced team of experts, you not only know the product is going to be soundly designed but it also creates opportunities to improve upon the designs as well. 
These improvements, Ferkey has discovered over the years, can come in many different forms. "Whether it is material recommendations, alterations to the layout or overall dimensions, accessibility and maintenance considerations, interchangeability and modular planning, or opportunities to produce or assemble the product more efficiently, effective product design can often uncover ways to improve the product."
For those looking to have a product developed, these kinds of improvements to design should be of particular interest. After all, a stronger or more efficient initial design will reduce the need for alterations and additional redesigns after prototyping, reducing the implementation period, project length, and ultimately reducing costs as a result. 
 An experienced and effective design team has the foresight, knowledge, and tools to predict and minimize potential challenges during the product's lifecycle from fabrication and installation to retirement. So how does the Pearl Engineering team accomplish this tall task without several trial-and-error prototyping phases?      
The answer is the product design team's secret weapon and one of the most valuable tools at their disposal during the design process: Autodesk® Inventor®.
Autodesk® Inventor®
Autodesk® Inventor® is a 3D computer-aided design (CAD) tool that Pearl Engineering's team has adopted and quickly mastered in recent years and has completely transformed our product design process and capabilities. "Inventor's expansive capabilities allow us to do so much more than ever before to successfully design the best products possible," Ferkey said. 
It is thanks to many of the advanced capabilities of Inventor® that allow Ferkey and the team to not just design the product but also subject it to realistic simulations that can help them discover potential issues, flaws, or areas of improvement early on in the design process before it is too late. 
Here are just a few examples of the features Inventor® offers that improve the effectiveness and efficiency of product design by Pearl Engineering. 
Parametric Design: Any update to a working model's dimension during design, no matter how small, can potentially disrupt the entire design. Parametric design means modeling the product based on an equation, which will automatically self-correct every other dimension to account for changes. That way one small, unaccounted-for change doesn't threaten the entire design.
iLogic Programming: Rather than creating the product by hand, sketching every single dimension, iLogic Programming allows the engineering team to input dimensions and parameters of the product and generate it automatically. This capability significantly reduces the design time needed, moving the entire process along at a faster rate. 
Stress Analysis: While the team may have a sound theory or idea based on the details of the design and their past experience how the product would respond to certain stresses. However, sometimes it can be difficult to know exactly until you are able to actually observe the product in these situations. Stress analysis simulation capabilities cut out the guesswork, allowing the team to test for weaknesses and use the information to improve or secure the design.
Dynamic Simulations: Additional dynamic simulations can be imposed upon designs in Inventor® to see how it will respond, move, or behave in a variety of situations. Moving parts like springs, dampers, gears, motors, and linkages can all be modeled to determine everything from internal and external force specifications to clearance requirements.
Point-cloud Integration: Point-cloud data can be used to virtually design products in the environment where they will ultimately be installed, which can provide insights into the installation process as well as operational and maintenance accessibility. In this way, products can be designed taking into account the constraints imposed on them by nearby equipment or other obstacles and ensure adequate clearances necessary for safe and effective operation.
Center of Gravity: With any product that might feature weight imbalances, sit on unstable or non-flat surfaces, or be involved with any rigging knowing the center of gravity will be important to understand and account for its behavior under certain conditions. Inventor®, similar to its stress analysis capabilities, can quickly and easily calculate and display the product's center of gravity.
Assembly and Fabrication Drawings: Inventor® capabilities not only assist the design team but can also provide incredible value to the end-user as well. This tool is capable of creating photo-realistic, high-quality renderings to show the user exactly how it will look before the design is finalized. In addition, resources and documentation like exploded views, bills of materials, and assembly animations can help the end-user more easily assemble and implement the product. 
Collaboration: Product design is a collaborative process, often needing the involvement of numerous parties including the customer, the design team, and any other third-party contractors like the fabricator. BIM 360 collaboration capabilities within Inventor® and the ability to export models to several popular formats make sharing updates and design drafts with internal and external stakeholders as simple as can be. The easy sharing of information enables better collaboration and communication, which is key to successful project completion.     
Pearl Engineering's product design process
While Inventor® enables dynamic product design and testing, it is a tool that is only as effective as the team using it enables it to be. At Pearl Engineering, we use the latest and greatest technology throughout the product design process, but it is the experience of our engineering team that is the true driving force. 
When it comes to executing a successful product design, simplicity is the key. The more intricate a design is and the more complex the process needed to complete the design is, the more likely it is for problems to occur and for the project to go awry. Pearl Engineering strives to take the complexities out of the design process, offering simple and straightforward solutions to complex problems.
If you are in need of product design services, whether to improve upon an existing product or bring a concept to completion, let Ferkey and the rest of the Pearl Engineering mechanical product engineering team put their experience and cutting-edge design tools to work for you.
To learn more or get your project started, contact us today!