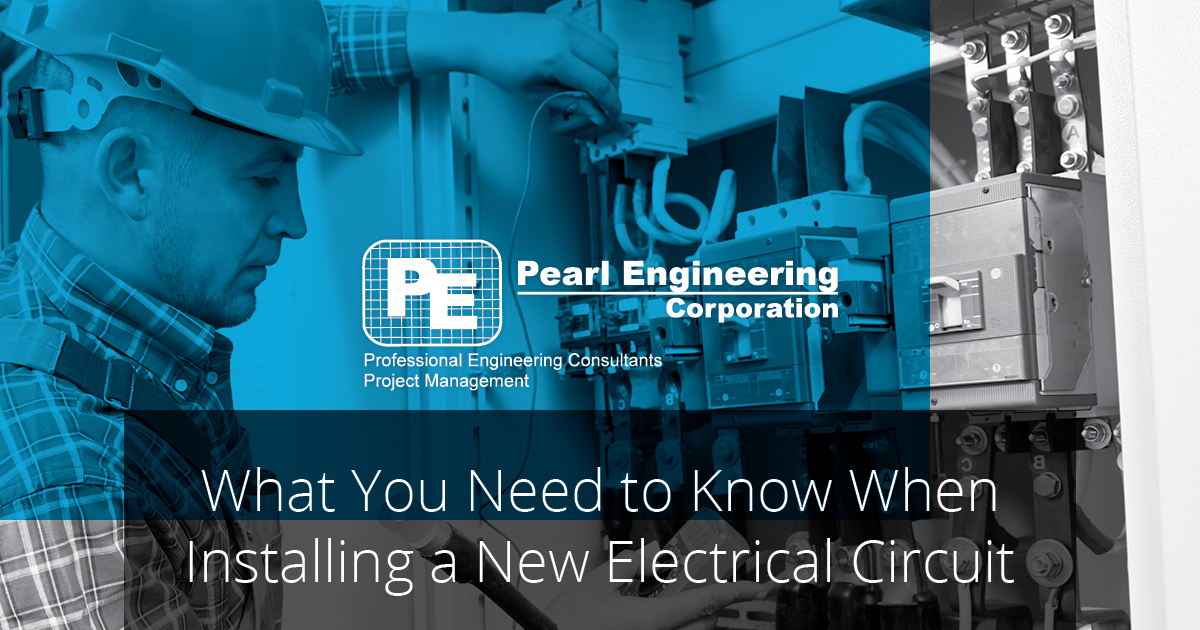 If your facility is preparing for the installation or updating of new equipment, whether it is something as simple as a new water fountain or as important as an industrial press, you are going to have to deal with the important task of providing power to the machinery. 
While this may be a single piece of a larger project, this is an important aspect that cannot afford to be brushed over and needs to be done the right way to ensure the safety and efficiency of your facility and ensure your operations are up to code.
So, what do facilities need to know and do to prepare for installing a new electrical circuit? According to Pearl Engineering Senior Electrical Engineering Associate, Steve Phillips, it is actually a relatively simple and routine process of answering five important questions.
"Adding an electrical circuit is a simple building block within the process of updating your facility, yet there are so many applications," he said. "Getting the answer to these questions will allow your facility to be equipped with an electrical circuit design to meet every need."
If you are preparing to install a new electrical circuit and plan to work with an electrical engineer to ensure the job is done right, here are the five questions you'll need to answer and why they are integral to designing an electrical circuit.
1. What will the load of the circuit require? 
The first piece of information that needs to be determined for the design of the electrical circuit is how much of a load will the circuit need to provide. To do so, you will need to determine three things: voltage, phase, and current.
"All of this information is put into consideration for almost every aspect of the design going forward," Phillips said. "This information determines the cables used, what kind of insulation we are going to need, what faults or failures we need to consider, and so on."
For instance, while most machinery will work with voltages below 1000 volts, voltages above 1000 require additional safety measures during the design. 
In a motor circuit, current can be determined from standard tables in the National Electrical Code (NEC) book or better yet from the motor name tag.

2. Will the load be continuous or non-continuous?
A circuit that will be required to continuously supply power to a piece of equipment is going to need to be handled much differently than one that supplies power in shorter bursts. 
"For example, the load for circuitry of a fan in a factory that is going to continuously run all day long cooling off the building is going to need to be different than a motor that runs, stops, then kicks back on again," Phillips said.
Understanding the required load, be it continuous or non-continuous, is important for determining the power source and whether that source has the required capacity to ensure the system is not overloaded. The capacity of any given power source, according to Phillips, should never exceed 80%. 
Doing so can cause any number of problems, as innocent as an overload tripping the breaker to the disastrous such as causing an electrical fire. Knowing whether or not the 80% rule will possibly be compromised because of the load allows the design team to make the necessary adjustments. 
3. Will the circuit be located in a hazardous location?
In a perfect world, the new circuit will be located in a safe and secure location away from any possible hazards. However, conditions aren't always ideal and in some environments, it is impossible to engineer the new circuit out of a hazardous location.
The NEC classifies hazardous locations as a location where fire or explosion hazards may exist due to flammable gases or vapors, flammable liquids, combustible dust, or ignitable fibers or flyings. Avoiding, or at the very least accounting for these environments will protect the circuit, the wires, and the facility from harm.  
4. How far away is the power source?
While it would be convenient to have the new power source close by, sometimes the nature of a facility layout will force the power source to be further away or to have to pass through motor control centers (MCCs) on its way.
As electricity travels from its source to its destination, there is a natural voltage drop due to the resistance of the wire. Good circuit design will account for this natural occurrence and make adjustments to prevent the drop from passing the acceptable 3% voltage drop.
"After calculating the potential voltage drop based on the distance from the power source, we can address the issue by increasing the conductor or wire size to account for resistances that create the drop," Philips said. 
Will it be part of a larger system?
If the new electrical circuit will be joined to become a part of a larger system, derating of the wire as well as conduit management will have to become a part of the design process for the engineering team. 
Too many conductors within a conduit create the opportunity for excess heat which, as previously discussed, opens opportunities for fires, overloads, and other potential hazards to occur. 
Pearl Engineering electrical circuit design
Steve Phillips and the rest of the Pearl Engineering electrical engineering team have years of experience working with clients and designing safe and efficient electrical circuit designs for their projects. 
Through meetings and on-site evaluations, Phillips and the team can help you find the answers to all of these important questions and more so that the design of your new electrical systems is up to code and provide your facility with everything you need to properly power your equipment. 
If you are ready to kick off a new project and need the expertise and assistance of a knowledgeable and skilled electrical engineering team, contact Steve Phillips and the rest of the Pearl Engineering team today.