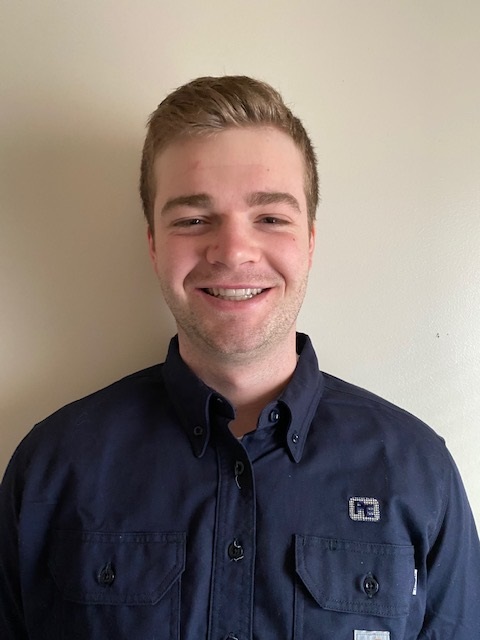 Hunter Linssen is a project engineer within Pearl Engineering's structural engineering department, and one of the company's youngest engineers. While in some companies being young may cause you to stick out, that is far from the case at Pearl Engineering. 
For years, we have sought to build our team with a strong balance of youth to go alongside seasoned engineers who have seen it all. The combination helps keep our teams full of bright young minds who contribute ingenuitive perspective, who in turn have an opportunity to develop their skills and learn from the best.
"Jeff Pearl puts it best:" Hunter said. "College teaches you how to operate a saw, but the real world is building the house. There are just some things you need to experience and learn firsthand and our team helps us do that as great mentors."
As a structural engineer, Hunter works alongside Daniel Bachinski, Robin Schmit, Steve Hrubecky, and Shane Burkart doing structural analysis and on-site evaluations and measurements for projects and using Revit to help execute his designs.
Hunter's interest and passion in engineering started at a young age, having always taken a liking to math and science in school. He followed that passion all the way to a degree in Civil Engineering from the University of Wisconsin, after attending Purdue University in Indiana his freshman year before transferring to be closer to home.
With so many careers and fields to explore in math and science, what was it exactly that drew Hunter so strongly to engineering? The satisfaction of seeing the final product.
"It is so cool to me to be able to see a building built from the ground up and knowing that you played a part in it," he said. " Architects can draw it up, but you are actually bringing it to life."
Hunter was born and raised in the Green Bay area, Hunter regularly enjoys spending time with family and friends, especially playing with the family dog Sam, a Springer Spaniel. 
It should also come as no surprise that he is a fan of all things Wisconsin sports. From the Packers, Bucks, Brewers, and especially his beloved Badgers, in his spare time there is a good chance you'll find him rooting for his in-state teams. 
Besides sports, Hunter is also a big fan of the outdoors. In the winter he is a particularly big fan of snowmobiling, often taking trips to the Upper Peninsula with his father and friends. But camping and other outdoor activities are most certainly in his wheelhouse too.
Now that Hunter has completed his studies, he is also looking forward to the opportunity to do more traveling. Although he has never been outside of the United States, his biggest travel interests lie west with a desire to see and explore Utah and Colorado. The top of his travel bucket list, however, is taking some time in the sun with a visit to Hawaii.
Hunter is just one of the amazing and talented engineers we have on staff here at Pearl Engineering. If you have a complex situation that requires an innovative solution, contact us to work with Hunter Linssen and the rest of the Pearl Engineering team today.